Innovative Learning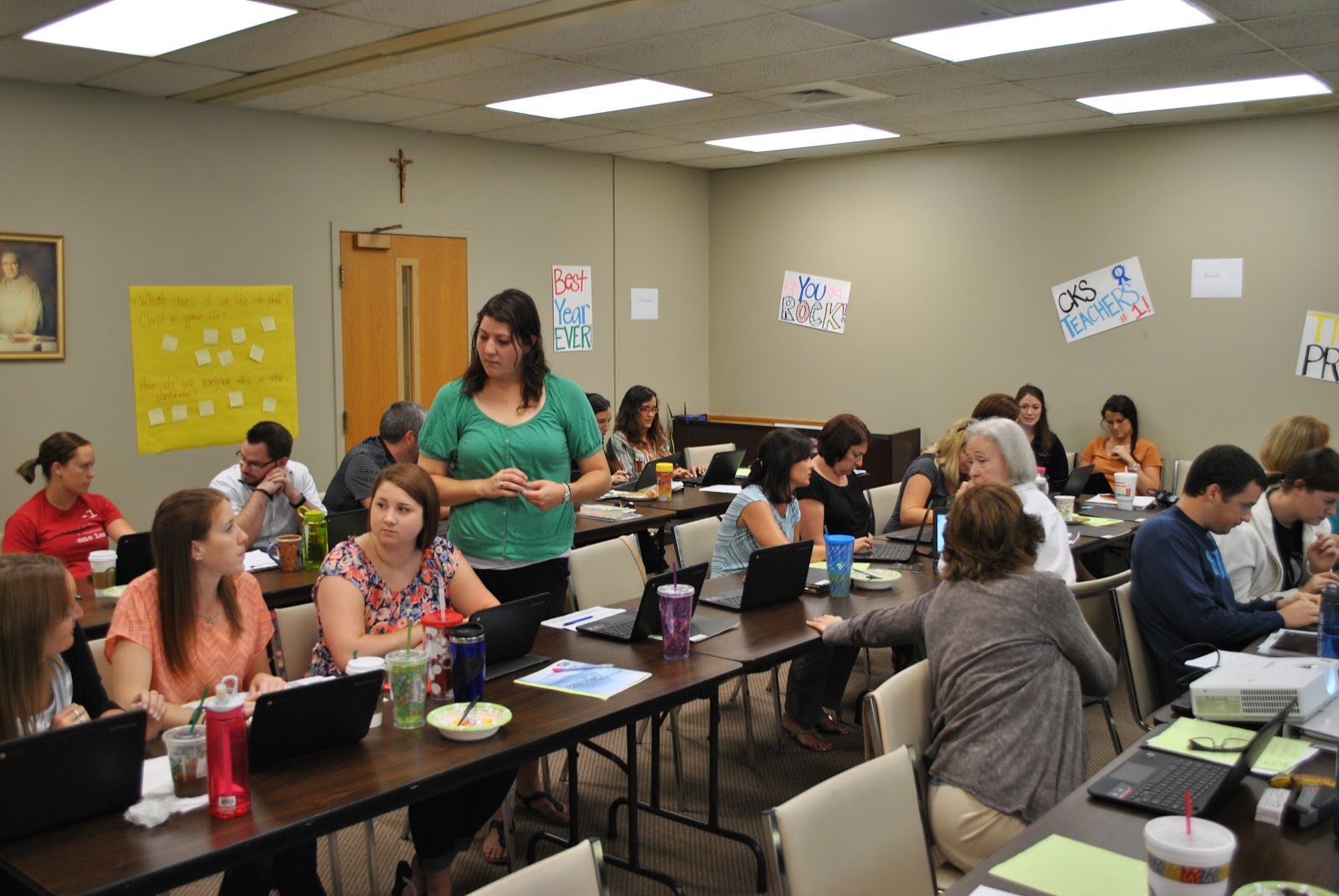 Chromebooks:

Our most visible technological change this year are the Chromebooks. Chromebooks maximize the Google Apps for Education experience. They allow the user quick access to their email, calendar, documents, and the internet. The school controls all of the Chromebooks and are able to add bookmarked webpages to all Chromebooks at the same time, as well as restrict internet access regardless of whether the computer is on campus or not.
Every teacher has a Chromebook to use and has started using it at staff meetings and other professional development sessions The teachers are also using them for easy access to their online gradebooks, websites, and documents. We will have trainings through the year to make sure we are maximizing the use of the Chromebooks in the classroom.
We have 4 carts of Chromebooks for student use. One cart is for 3rd and 4th grades use and the other three are for use in the 5th - 8th grades. This purchase has our student to device ratio at about 2:1. I look forward to sharing how we are using the Chromebooks throughout the year.
iPads:
We have changed how we are utilizing the iPads this year. Each homeroom from kindergarten through 2nd grade will have 8 iPads at all times. However, the grade levels can combine iPads to create an even better student to device ratio. The students will be using the iPads in stations, group work, and individually.

Research on iPad use in schools:
http://www.scilearn.com/blog/using-ipads-in-schools
http://www.educationdive.com/news/18-ipad-uses-how-classrooms-are-benefiting-from-apples-tablets/68569/
IXL:
I am excited to bring IXL to Christ the King. IXL is an online math program that allows teachers to provide extra work with state standards and differentiated instruction. Each student will have his/her own account and can access skills ranging from pre-kindergarten to pre-calculus. This program allows students who are struggling to have extra practice, and students who need a challenge can work on skills at a higher level. Right now the teachers are exploring IXL. We will have some training on September 18th, and they will then start to use it schoolwide. I will be updating you on how we are using this to strengthen our math instruction throughout the year.
Research on IXL use in schools:
https://eu.ixl.com/membership/school/researchfoundations
Google Expeditions:
Google Expeditions is a virtual reality teaching tool that lets you lead or join immersive virtual trips all over the world — get up close with historical landmarks, dive underwater with sharks, even visit outer space!

Built for the classroom and small group use, Google Expeditions allows a teacher acting as a "guide" to lead classroom-sized groups of "explorers" through collections of 360° and 3D images while pointing out interesting sights along the way.
Student Data and Professional Learning Communities (PLCs)
Definition:
An ongoing process in which educators work collaboratively in recurring cycles of collective inquiry and action research to achieve better results for the students they serve. Professional learning communities operate under the assumption that the key to improved learning for students is continuous job-embedded learning for educators.
What it looks like at CKS:
I will be meeting with each grade level at least once a month to investigate student data such as ISTEP, IXL, and NWEA. Together, the teachers and I will be developing protocols for tracking data and using this information to meet the needs of each student. We will make student data visual by creating data walls and documents that bring all student data together. All information will be kept secure and confidential. This will be an ongoing process that will build from year to year.
Research on using Student Data and PLCs in Schools:
http://www.naesp.org/sites/default/files/Student%20Achievement_blue.pdf
http://www.ascd.org/publications/educational-leadership/may04/vol61/num08/What-Is-a-Professional-Learning-Community%C2%A2.aspx
http://www.allthingsplc.info/about