Scrip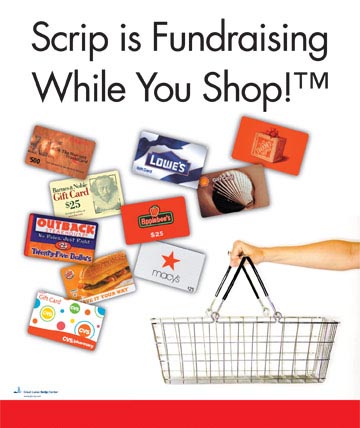 What is scrip?
Christ the King Parish operates a 'Shared Rebate Program' which means participants can designate up to 50% of earned rebates to offset tuition costs with the remainder going towards a specified Parish or School ministry. In addition, rebates earned and donated to the Parish or School may be eligible for consideration as a charitable donation for tax purposes*.
It's Easy to get started! To enroll in the Christ the King Parish shared rebated program, simply complete the Scrip Agreement form and return it to the School Office. Then, you will log in to the www.shopwithscrip.com website -- this is where ordering for All SCRIP for the shared rebate program will take place. After ordering your SCRIP, submit payment either on the shopwithscrip website or by sending a check payable to 'Christ the King' to the School Office. If your order and payment are received by Wednesday morning, then your SCRIP gift cards should be delivered by Friday afternoon. It's that easy!
* Please consult your tax professional on how SCRIP rebates may be considered for tax purposes.

Christ the King School-Indianapolis, IN
Web URL: www.shopwithscrip.com
Enrollment Code: Call 317-475-6578
to obtain code, or email
scrip@cks-indy.org
1. How can Rebates be used?
Rebates earned by purchases will be distributed based on the signed User Agreement on file with the School Office. Tuition credits or other rebates that are directed towards tuition or other benefits of the SCRIP participant are not considered charitable donations. Rebates that are designated to the Parish or School will be considered a charitable donation by the Parish or School and the participant will receive a charitable donation letter no later than January 31st of the year following the donation. Please consult your tax advisor to discuss if and how these donations should be handled for individual tax purposes.
2. How do I pay for my order and when can I receive my product?
There are two ways to pay for your order. First, you can pay on-line thorugh the shopwithscrip website. This is the easiest to administer and the preferred method. Second, you can submit a check payable to "Christ the King" to the School Parish no later than Wednesday morning for order that will be delivered on Friday.
3. How much can I earn through the SCRIP Program?
The more you purchase through SCRIP, the more you earn - there is no limit! You can also ask friends and family to purchase SCRIP for your account to increase the rebates that you earn.
4. Who can I contact for more information?
The best way to request information is by emailing us at SCRIP@cks-indy.org. Since the program must be run nearly entirely by volunteers, we ask that you send email inquiries first and then reach out to the School Office if you can not get your questions answered. The Parish has established a SCRIP Committe which in addition to many volunteers will perform most of the administrative duties. SCRIP Committee members: Chris H, Kelly W, Jennifer W-T, or Brian F can all be reached via the SCRIP@cks-indy.org email address.
5. Why do I have to order SCRIP on the www.shopwithscrip.com website in order to participate in the shared rebate program?
Christ the King Parish follows specific guidelines set forth by the Archdiocese of Indianapolis in order to allow a shared rebate program. One requirement of those guidelines is that the program must be administered over 90% by volunteers. By using the shopwithscrip website, not only are you performing part of the ordering process, but your orders on-line are automatically included in your account. This makes the tracking of rebates and donations for your account a fairly easy process.